This week, using Microsoft Word for genetics, how to get Grand Theft Auto V for free, Respawn opens a studio in Vancouver, the Last of Us Part II PS4 Pro, and new free-to-play shooter, Crucible. But first, using Google Lens to digitize your notes.
Google Lens will transcribe your handwritten notes for you
Google's image recognition technology, Google Lens, has just levelled up.
It can translate text in real time, identify flora, provide information on landmarks.
And now the software, which is a standalone app on Android devices and built into the Google app on iOS can take the notes that you've written on paper and turn them into digital text.
If you've got a laptop running a Chrome browser that is signed in with the same Google account, you can paste that text directly onto your computer.
And if you're on an Android device, you can select text in another language and Google Lens will read it out to you in that language. Pretty handy if you're levelling up yourself while in isolation.
Researchers make use of Microsoft Word to help with genetic research, including coronavirus
Randall Munroe, the creator of xkcd.com often makes comics about science and technology. So when he had one suggesting that geneticists were using text editors and Word to do their work, I figured he knew something.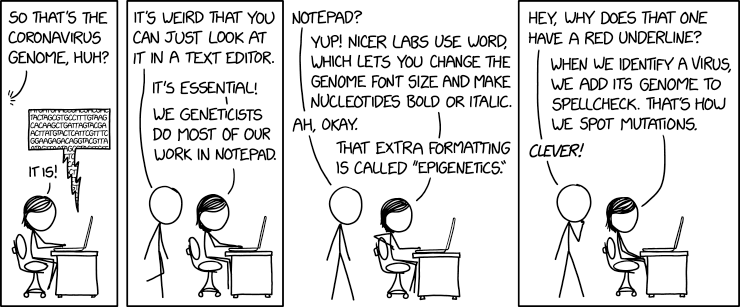 While I was unable to confirm that geneticists really do use Word, it makes sense. All genetic material is encoded using four letters: A, C, G, and T (for adenine, cytosine, guanine, and thymine). You can use other text formatting to call out specific sequences, and the spell check feature helps to identify outliers.
Epic Games giving away a new game every week
Epic Games, which in addition to developing the video game Fortnite and the Unreal Engine software that game developers use to make games, also has a digital platform for the distribution and play of computer games.
And the Epic Games Store is having a Mega Sale. Every Thursday until June 11, a new game will be made available for free to own. This week's game is Grand Theft Auto V from Rockstar, and you've got until 8 a.m. PT / 11 a.m. ET tomorrow morning to pick it up. A new game will be available after that.
The sale also includes good deals on games including:

New Vancouver video game studio revealed by EA's Respawn
Respawn Entertainment is a going concern. The studio behind the free-to-play multiplayer shooter Apex Legends, which has just kicked off season five, is also responsible for the latest Star Wars Game, Star Wars Jedi: Fallen Order.
And with the success of these newest titles, Respawn has expanded to Vancouver.
The new studio is part of Electronic Arts' campus in Burnaby – Respawn is owned by EA – although everyone's working from home right now.
There are about 60 developers currently working on Apex Legends, and a spokesperson told me they are looking to grow to around 80 in the coming months.
Not bad for a company that just turned 10.
Limited edition PS4 Pro console styled after The Last of Us protagonist's tattoo
The Last of Us Part II is a mere month away from release, and this week Sony announced a limited edition PS4 Pro console to go with the game.
The bundle includes a PS4 Pro console with a matte finish and engraved with a fern graphic that is the design of Ellie's tattoo.
Ellie is the main protagonist of this sequel, and one of the main characters of the first game released in 2013.
The bundle costs $500 and also comes with a copy of the game on disc and a DualShock 4 controller that is also engraved with the fern. It's available to pre-order now.
The controller can also be purchased separately for $75.
The fern design carries over to a new PS Gold wireless headset ($120) and a 2 TB external hard drive from Seagate ($115).
The Last of Us Part II releases on June 19.
Amazon's free to play shooter Crucible out now
There's a new game in the multiplayer shooter genre for Windows gamers.
Crucible comes from Seattle's Relentless, a division of Amazon Game Studios, and it gives players ten different "hunters" to embody while teaming up to take on opponents in three different modes.
Alpha Hunters is a last player standing where you start in eight teams of two. Harvester Command has two teams of eight trying to control zones. And Heart of the Hives is a four-on-four race to collect the hearts of creatures that you've taken out.
The game takes place on the planet Crucible, which is populated by weird flora and fauna. The characters are varied and include humans, other species, and even a robot. Each of them has unique personalities and abilities.
While the game is free to download and play, you can spend real money on Crucible to alter your experience. Three founders packs are available to purchase for between $17 and $57 that unlock skins and rewards.
Crucible is going to follow the seasonal model adopted by other free-to-play games. It's in pre-season until July 13, providing players with plenty of time to level up before things get serious.